M2-PK Quick
Early detection of non-bleeding / bleeding Colorectal cancer (CRC) and polyps.

Pre-colonoscopy screening test for Colorectal cancer (CRC).

High accurate and easy-to-perform test.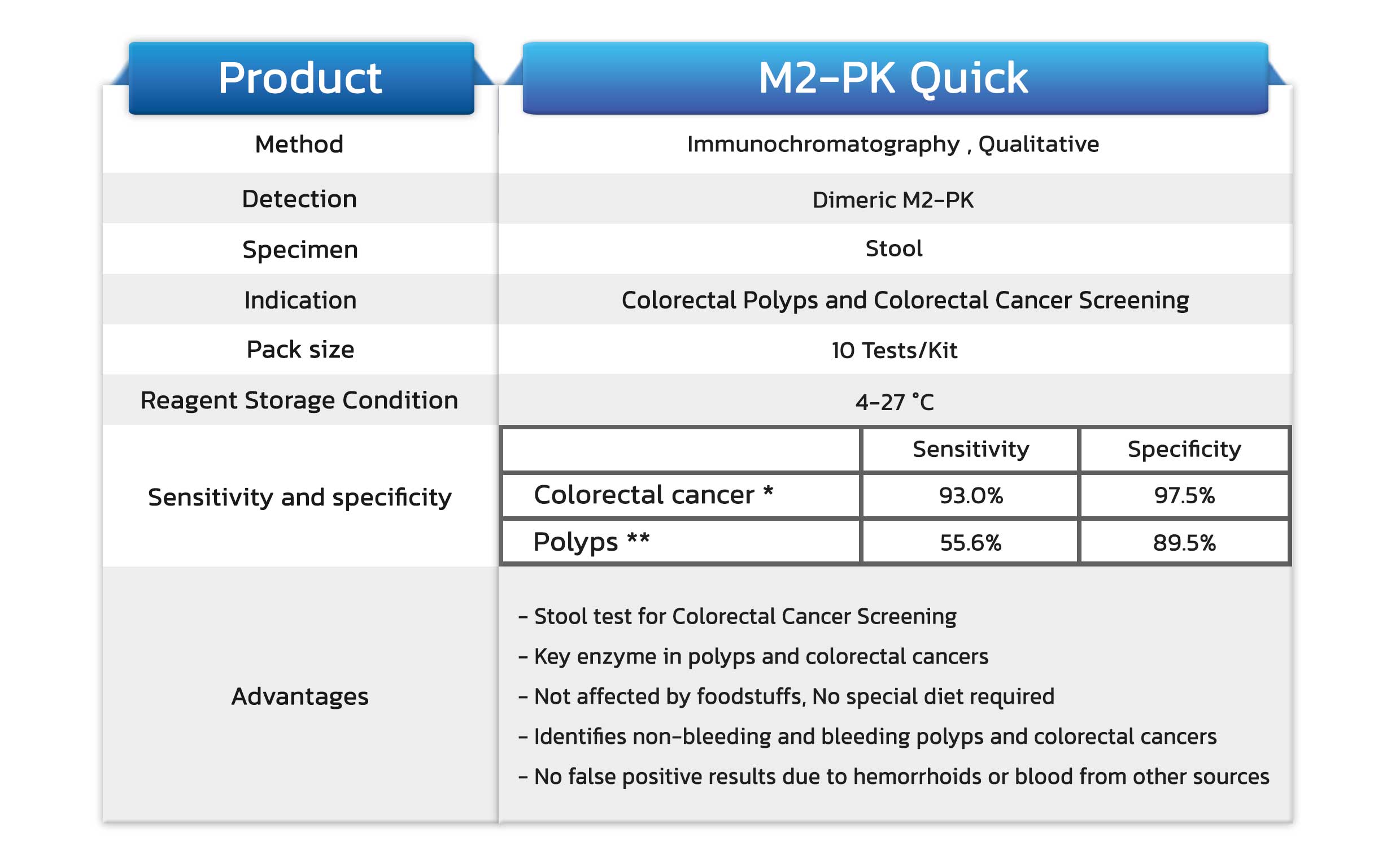 * Own illustration, adapted on Goh, K.L., M2-Pyruvate Kinase in the Detection of Colorectal Cancer, Abstract from the Coloprotology 2014, (International Scientific Congress) Kuala Lumpur, Malaysia, (2014)
** Own illustration, adapted on Cho, C.H., Lee, B.J., Lim, C.S. Evaluation of the Performance of Fecal Tumor M2-PK Rapid Kit for Screening Colorectal Tumors Using Stool Specimens,Poster from the 54rd Congress of The Korean Society of Laboratory Medicine (KSLM) (2014)
Sensitivity M2-PK vs. iFOBT

Method
A total of 323 healthy volunteers and patients with CRC were enrolled in 6 hospitals in Korea.
M2-PK was compared to iFOBT

Results
Conclusion
M2-PK exhibited increased sensitivity for identifying CRC and adenoma compared with iFOBT.
(Kim et al., Gut and Liver 2015;9:641-648)
Sensitivity and Specificity of M2-PK

Method

A case control study with 115 CRC cases and 213 controls was conducted at the Malaya Medical Centre
to find out the sensitivity and specificity of the M2-PK test.

Results

Conclusion

M2-PK is highly accurate test in the detection of CRC.Useful convenient diagnostic test for the detection of CRC.

(Sithambaram et al., PLoS ONE 10(7): e0131616. doi:10.1371/journal.pone.0131616)

M2-PK as a first line Screening Tool for CRC?

Method

77 stool samples from general surgery and gastroenterology clinics have been tested for M2-PK.
Colonoscopies were performed by experienced endoscopists that were unaware of the M2-PK results.
Sensitivity and specificty of M2-PK in comparison to colonoscopy has been calculated.

Results





Conclusion

M2-PK narrows the gap in clinical practice because it detects non- bleeding and bleeding tumors with high sensitivity and specificity.
M2-PK is recommended as a routine test prior to colonoscopy.

(Hajhamad et al., Poster PP 01 , Coloproctology, March12th - 15th 2015, At Melaka, Malaysia)